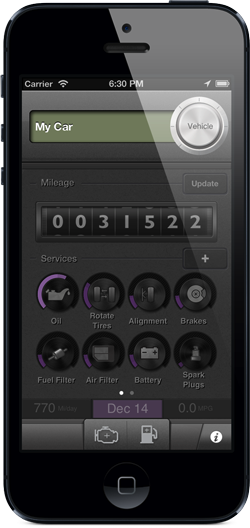 Car Maintenance and Fuel Log
RememberTheOil has been carefully designed to help you keep track of your vehicle's maintenance services and reminders. Use its pre-built reminders or setup your own. Every time you update your vehicle's mileage, RememerTheOil estimates when your services are due. It's really that simple!
New: Dropbox Sync
We are proud to be one of the first apps to utilize Dropbox new service, Dropbox Sync. You use it to back up, restore and sync multiple devices. Perfect for sharing data among family members or use it as a replacement for iCloud.
Learn more
Service Tracking and Reminders
The main purpose of RememberTheOil is to remind you about your next service. You can setup pre-configured reminders or create your own.
As you update your vehicle's mileage, the due date for each service is estimated based on your daily mileage.

Fuel Log and Efficiency Tracking
There's never been an easier way to track your MPG. You can configure how to see your fuel efficiency, we support 7 different type of conversions, including MPG (UK) and Liters/100Km.
Manage multiple vehicles
You can track as many vehicles as you want, with no extra charge.
With a spin on the vehicles knob you can quickly change the vehicle or tap on it to see a complete list.
iCloud Sync
Your data is very important, so we have worked hard to make sure it can be safely stored in iCloud. You can delete the app and reinstall it without losing your information.

More backup and sync option will come in the future.
Local Notifications
With every mileage update, your due date services are estimated and a local notification is created, so you will be reminded on time about your upcoming maintenance.
Language support
On this initial version we have included support for English and Spanish, but as usual, more languages will come with future updates.
Support for equipment with odometers in Hours
You can keep track of vehicles which are tracked in hours instead of miles or kilometers, like boats, tractors and even lawn mowers.

It includes some basic service reminders for each vehicle type.