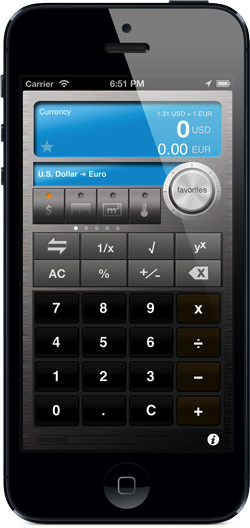 Currency and Units Conversion
Designed with passion for everyday use
ConvertMe is loaded with tons of units and currencies. Thanks to its built-in calculator, it will become one of the favorites apps in your iPhone or iPod Touch's home page. Made to be functional and look beautiful on your iOS device.
Smart and delightful
Designed with passion for everyday use.
We want you to feel confident of bringing ConvertMe to a business meeting, or just to show off to your friends.
Currency conversion, our major strength
Exchange rates are updated automatically, at least once a day. As soon as you type a number, ConvertMe will update the exchange rate if needed.

You can always refresh the exchange rate manually by Shaking your iPhone or iPod Touch.
Fully loaded
With more than 330 conversion units spread over 15 categories, ConvertMe will help you convert currencies, distance, temperature, weight, etc.
Converts as you type
Because we know you want to get your results quickly, we show the conversion results as you type.

Close the app and we will return to your favorite conversion.
Multi-language support
Available in English, Spanish, French and German.
Favorites
Keep your favorite conversions one spin away.
Save your favorites by category and access them by spinning the knob or by double tapping on the knob to see them all.
Retina display support
ConvertMe will look great on your iPhone, but looks beautiful in your iOS device with Retina display.

Built-in Calculator
You won't need to switch between apps when doing your conversions. A basic feature that most apps miss.
Cut and Paste
Tap and Hold the calculator screen to review the Cut and Paste options. You can cut/copy either the calculator value or the conversion result.
All about gestures
There are several features that we have implemented with gestures in order to keep the application clean and simple. Besides, it just makes it fun to use.
To learn more
click here
Pre-Euro currency support
This is one of our unique features requested by our customers. You can use France Franc, Germany Marks, Spain Pesetas among other. Although their exchange rate is now fixed in relation with the Euro, you can still use it to convert to any other currency in the World. ConvertMe will use the latest euro exchange rate behind the scenes to give you an up to date conversion.
Bello - Ho sempre tutti i valori a portata di mano
Jess12345t - Italy
Praktisch & gut - Super App. Funktioniert, ist ästhetisch ansprechend und macht Sinn!
Natalie Rosengarth - Germany
Elegant and handy tool - The converter with the interface which is enjoyable both use and see. Simple and impeccable.
by tap4joy - Switzerland